in wall touch screen in wall touch screen in wall touch screen in wall touch screen in wall touch screen in wall touch screen in wall touch screen in wall touch screen in wall touch screen in wall touch screen in wall touch screen
in wall touch screen in wall touch screen in wall touch screen in wall touch screen in wall touch screen in wall touch screen in wall touch screen in wall touch screen in wall touch screen in wall touch screen in wall touch screen
in wall touch screen in wall touch screen in wall touch screen in wall touch screen in wall touch screen in wall touch screen in wall touch screen in wall touch screen in wall touch screen in wall touch screen in wall touch screen
VEGA in wall touch screen series
(Official introduction video)
(Our Europe Direction, Michael, introducing VEGA and VEGA X in ISE 2020)
Have you experienced having an app for controlling your lights, an app for controlling your music, an app for controlling temperature on your phone? And it's no doubt experiencing frustrations of unlocking your phone, waiting for the connected device's app to open, just to turn on the lights, adjust the temperature or listen to your music. With the number of smart home devices arising, the challenge lies on how to control all of your smart devices in one control panel and at ease?​
Vega is able to connect your connected devices into one single control platform, to ease your pain of unlocking every single app for controlling each connected devices. You can now control your lightings, entertainment, security, temperature and appliances in a single in-wall touch platform.
In-wall Touch Screens
for Smart Homes/Smart Buildings
In-wall touch screens offer an ideal user interface for controlling all the technology in a home, office, hotel or apartment building. Touch screens simplify the way of using technology, getting rid of those piles of remote controls, clunky smart phone apps, computer screens and cluttered wall switches. Available in 7" and 10" sizes, VEGA In-wall touch screens provide dedicated, responsive and simple controls, high resolution graphics and look amazing on any wall. All models include HD video intercom and crystal-clear audio intercom for convenient communication from room to room or with visitors at the door.
Optional Smart Home Module Compatibility
VEGA is compatible with various home automation protocol, including KNX, Amazon Alexa, Z-wave, Zigbee, Bluetooth

and Wi-Fi.
VEGA In-wall touch screens include video intercom featuring crystal clear audio for communication from room to room or with visitors at the door. Video Intercom allows seeing who is at the front door, check in on sleeping babies or call everyone in the house for dinner.
Temperature Sensor detects room temperatures.

Ambient Light Sensor adjusts screen brightness to room light.
Proximity Sensor enables device.
Face recognition
Voice recognition
Noise cancellation
Remotely manage all VEGA devices at the same time, systematically update and manage user requests in one single platform.
Video Intercom Capability
Echo-cancelling Microphone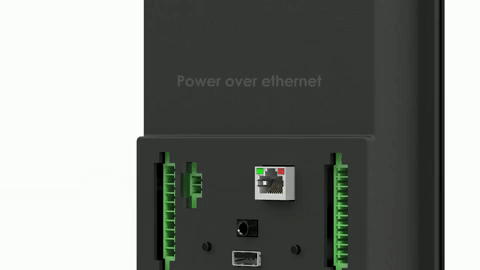 Commercial Grade
Optional POE
Open API
Original PCBA design went through Temperature shock test 10,000 times, stress test 10 hours, drop test 3 times. Screen life up to 10,000 hours.
​
​
No need for an extra power cable or a dedicated power wiring. If you don't want to use POE, VEGA has an WAGO 12V for power cable connection.
Allow developers and software engineers to access features or data of the Android OS application and other services to enable higher levels of customization.
For Custom IOT Touch Console Solution
System and hardware permission
Complete control of firmware OS
Application of the project

SDK fee starting at 5000 USD

Number of developers customer have.

SDK fee - Documents are in Chinese/English language, must translate documents on your own

2 weeks support for initial compiling after user received SDK or 3 free case support - After 3 case, each case support is 90 USD/hour

Update support up to 1 year Only support 1 engineer/company, additional engineer will count as new SDK fee